BOINC: compute for science
BOINC: compute for science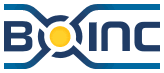 ---
BOINC is a program that lets you donate your idle computer time to science projects like SETI@home, Climateprediction.net, Rosetta@home, World Community Grid, and many others.

After installing BOINC on your computer, you can connect it to as many of these projects as you like.
---
Berkeley Open Infrastructure for Network Computing
From Wikipedia, the free encyclopedia
The Berkeley Open Infrastructure for Network Computing (BOINC) is a non-commercial middleware system for volunteer computing, originally developed to support the SETI@home project, but intended to be useful for other applications in areas as diverse as mathematics, medicine, molecular biology, climatology, and astrophysics. The intent of BOINC is to make it possible for researchers to tap into the enormous processing power of personal computers around the world.
BOINC has been developed by a team based at the Space Sciences Laboratory at the University of California, Berkeley led by David Anderson, who also leads SETI@home. As a "quasi-supercomputing" platform, BOINC has over 430,000 active computers (hosts) worldwide processing on average 663 TFLOPS as of September 8, 2007.[1] BOINC is funded by the National Science Foundation through awards SCI/0221529, SCI/0438443, and SCI/0506411.
The software is free/open source software, released under the GNU Lesser General Public License. It is also used for commercial usages, as there are some private companies that are beginning to use the platform to assist in their own research. The framework is supported by various operating systems: Windows (XP/2K/2003/NT/98/ME), Unix (Linux, FreeBSD) and Mac OS X.
---
I have downloaded this, and it seems very cool so far. I haven't quite figured the entire thing out yet, but I am working on it. One of the projects I added was the SETI@Home project. I am pretty sure there is a way to see a star map, including your progress.

Either way, anyone who likes science and owns a computer should download this. What have you got to lose? It's a good way to give back to the world of science.